The cost of renovating a complete bathroom averages around $11,364, but in larger cities, you can expect to pay anywhere from $5,000 to $15,000. If you're making significant changes to the layout or renovating a larger bathroom, the costs can go up to $20,000 or more.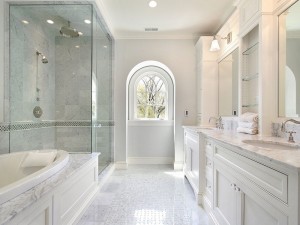 Costs and Tips of Bathroom Renovations
Renovating your bathroom can be an exciting, but daunting task. On one hand, you get to create your dream bathroom – one that's both functional and fabulous. On the other hand, you'll need to prepare for a lot of mess, unexpected delays, and, most importantly, the cost.
To help keep your costs in check, consider refinishing old bathtubs or installing liners over tubs and showers instead of replacing them entirely. You can also opt for specific renovations, such as upgrading fixtures or replacing plumbing and electrical wiring, to save money.
But remember, it's essential to factor in all the costs involved, including demolition, plumbing, wiring, lighting, tile installation, bathroom fixtures, vanities, and cabinets. Unexpected delays due to materials shortages, supply chain disruptions, and longer lead times can also have an impact.
Types of Bathroom Renovations and Their Estimated Costs
These costs are just estimates and can vary depending on the size of your bathroom, scope of work, the materials you choose, and the contractor you hire. It's always a good idea to get a quote and to set aside some extra money in your budget for unexpected costs and surprises.
For a guest bathroom renovation, you can expect to pay anywhere from $3000 to $8000.
A powder room renovation will cost around $3000 to $4000.
A kids' bathroom renovation can range from $7000 to $9000.
A partial bathroom renovation can cost between $1,500 to $3000.
A three or four-piece primary bathroom renovation can range from $7000 to $14000.
But don't let the cost scare you away from upgrading your bathroom. With a bit of planning and professional help, you can give your bathroom the facelift it deserves without breaking the bank.
Investing in Your Home with a Bathroom Renovation
At the end of the day, renovating your bathroom is an investment that can add value to your home and improve your quality of life. So go ahead, take the plunge, and give your bathroom the upgrade it deserves. With a little bit of humor and a lot of planning, you'll have a bathroom that's both functional and fabulous in no time!
And don't forget to keep an eye out for those unexpected delays, because as we all know, construction never goes as planned. But every time you have to use your neighbor's bathroom, it's one step closer to your dream bathroom.
To ensure that your bathroom renovation fits within your budget, get a professional to help you choose what you want to change in your bathroom. Renovco's Bathroom Renovation Services can provide up-to-date information on the cost of renovating a bathroom and help you plan a renovation that meets your needs and budget.