We all know that we spend a significant amount of time in our bedrooms. On average, we sleep for 8 hours per night, which adds up to almost 60 hours a week. That's why it's crucial to have a bedroom that is relaxing and inviting—a space where you can wind down, sleep soundly, and wake up to a peaceful ambiance. When it comes to bedroom renovations, choosing the right company is of utmost importance.
Renovco is a leading provider of bedroom renovations in Montreal, dedicated to creating your dream bedroom.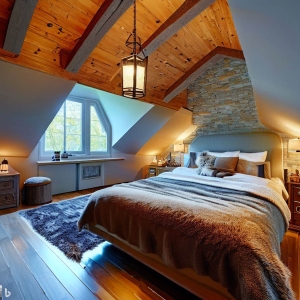 Take The First Step In Your Renovation
In today's world, bedrooms are typically much larger than before, giving our contractors ample space to work with during your renovation. When you partner with Renovco, you'll have a remodeling contractor by your side every step of the way, helping you design the modern bedroom you deserve.
Our comprehensive renovation services include:
Flooring installation
Lighting installation
Painting services
Your bedroom should be a sanctuary where you can relax and unwind. That's why our designers strive to deliver the best bedroom renovations, combining elegant textures with functional space utilization. From the moment you contact our office, we consult with you and work closely throughout the entire process. We value your input during the design and product selection stages, ensuring that your dream bedroom becomes a reality.
Ready to take the first step in your bedroom renovations? Contact our skilled renovation contractors in Montreal today to schedule an appointment. Don't wait any longer to create the impressive bedroom you've always desired. Call us now at 514-856-9993!