Your living room is more than just a space in your home. It's where relaxation, socialization, and entertainment converge. It's the place where guests are welcomed and made to feel comfortable.
While kitchens and bathrooms often take the spotlight when it comes to home updates, don't overlook the importance of your living room's first impression, right inside your front door. An updated entryway or staircase can set the tone for your entire home. With additions like a stone fireplace, built-in media cabinets, custom trim or ceiling woodwork, enlarged door ways, or new flooring, your living room and dining room can be transformed dramatically. Even small renovations can have a significant impact on your home's ambiance.
When it comes to creating a luxurious living room, you need a specialist who can bring your imagination to life. That's where Renovco, a professional living room renovations company in the Montreal area, comes in. Our team of qualified, passionate, and experienced staff will turn your design ideas into the reality you've always dreamed of.
Whether you've lived in your home for years or just purchased a house that needs upgrading, we have the expertise to make your living space truly impressive. Each renovation we undertake will make you feel like you've stepped into a brand-new home every time.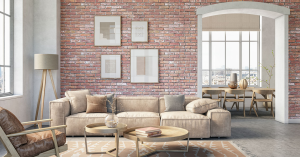 The Open Plan
One popular trend in Montreal homes is the open plan living concept. Embracing an open plan layout offers a modern feel with clean, open lines and spaciousness. If your living room boasts original wall features and high ceilings, they can beautifully complement the open plan design.
Having three or more rooms combined into one space allows for easy socializing and seamless flow within your home. If you're considering living room renovations, rest assured that we will take care of every detail. Our aim is to make your living room stylish and functional.
Remodeling your living room not only adds value to your property but also enhances its functionality and beauty. Trust Renovco to deliver impeccable renovations that elevate your living room's appeal.
Ready to elevate your living room? Contact us today and experience the expertise of Renovco's professional living room renovations in Montreal.